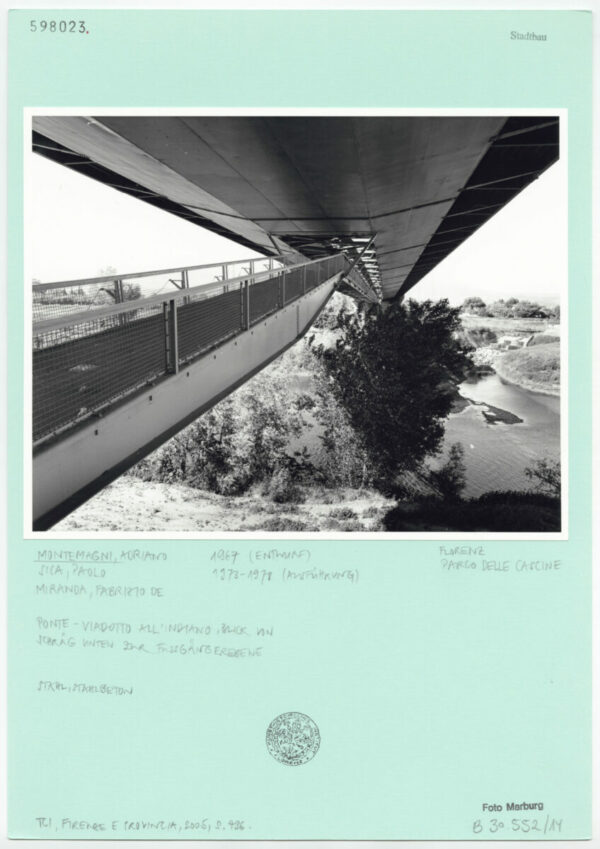 WE // 06.07. 09:00
Public Time, Monuments and Ghosts in Florence: A Walk and a Conversation
With Roberto Budini Gattai, Leone Contini, muSa Michelle Mattiuzzi, Caroline E. Murphy, Esper Postma, Vyjayanthi V. Rao, Neda Saeedi et al.
Path: Quartiere Isolotto, Southern bank of the Arno river, Ponte all'Indiano, Monumento all'Indiano, Manifattura Tabacchi
Meeting point: 9.00 am in front of Parrocchia della Beata Vergine Maria Madre delle Grazie all'Isolotto, Piazza dell'Isolotto
Participation only with pre-registration until 29 June, please send a message to: office@villaromana.org. The number of participants is limited.
What do we consider a monument in a city where the historic centre is labelled and marketed as the 'Cradle of the Renaissance'? Do we expect monuments? Do they expect us? How have they changed their meanings over time? Who ascribes meaning to them? What has never become a monument, but still ghosts through the ages as a witness? How does a city open up and seal itself in time? Is there a 'public time'? A time that becomes public? In which a city can be 'read'?
Walking together through the western periphery of the city, we observe and discuss a zone on both sides of the Arno: The Isolotto neighbourhood with its gardens, built in the post-war period as a model of social housing, the Ponte all'Indiano, a cable-stayed bridge over the Arno built in the 1970s, and the Le Piagge neighbourhood, which – built in the 1960s – was at times a social hotspot. A small branch leads to the Monumento all'Indiano in the Cascine Park, built in memory of the Indian Prince Rajaram Chuttraputti, Maharajah of Kolhapur, who died suddenly in Florence in 1870 at the age of 21 on his way back from London.
The event results from a three-year cooperation between the Kunsthistorisches Institut in Florenz – Max- Planck-Institut and Villa Romana, which since 2019 jointly invited 'International Research Fellows' and thus initiated an intensified dialogue.
Kunsthistorisches Institut in Florenz – Max-Planck-Institut / Foto Marburg, 2003
back